Sports-Cote
Court Binder PU
Solvent Based Polyurethane Binder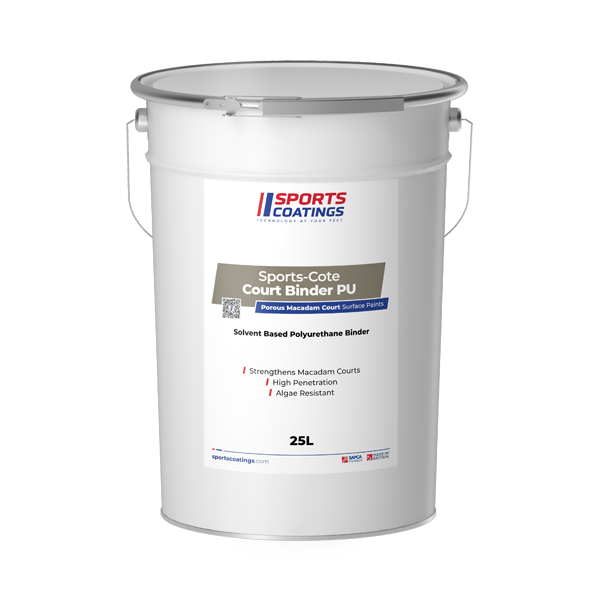 ON DEMAND
Regular price

£250.00

£300.00

with VAT

Sale price

£250.00

£300.00

with VAT

Regular price

£0.00

with VAT
Easy and low cost to install
Consolidates and reinforces fretting courts
Single-pack - no mixing
Low odour and non-stain
Will not become brittle with age.
Details
Downloads
PRODUCT DESCRIPTION
Sports-Cote Court Binder PU is a single-pack moisture curing polyurethane, designed for application to porous macadam-based sports surfaces.
Without affecting porosity, Sports-Cote Court Binder PU penetrates the substrate and cures to form a strong yet flexible film within the interstitial spaces of the macadam.
USES
When fretting is evident, Sports-Cote Court Binder PU is applied to older macadam surfaces to consolidate and reinforce prior to the application of Sports Coatings' paints.
Sports-Cote Court Binder PU may also be used to treat new macadam surfaces to minimise the softening effect of elevated temperatures. This treatment also serves to optimise adhesion between the substrate and subsequent paint coats, thereby extending the service life of the paint.
PACKAGING
25 litre pails.
APPROXIMATE COVERAGE
New macadam: 6-8m² per litre,
Old macadam: up to 3m² per litre.