Sports-Cote
Premium / Dark Green
Polyurethane Acrylic Water Based Coating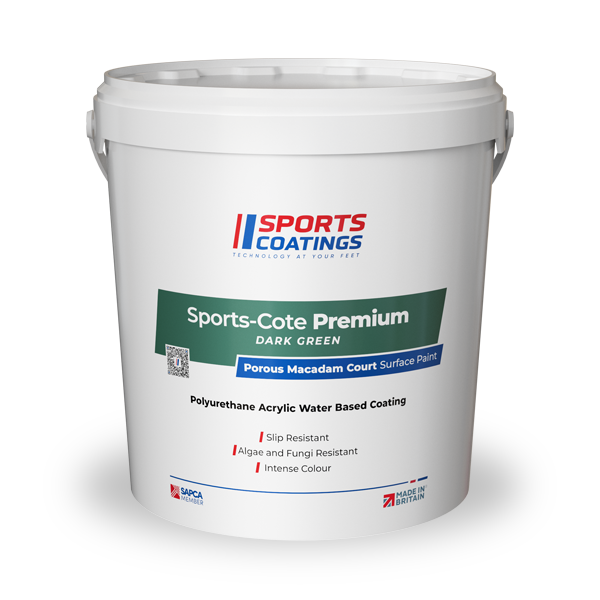 ON DEMAND
Regular price

£115.00

£138.00

with VAT

Sale price

£115.00

£138.00

with VAT

Regular price

£0.00

with VAT
Water based technology - Safe to use
Durable - Long expected lifespan
Slip resistant in both wet and dry conditions - Meets the required SAPCA standards for porous macadam courts
Algae and fungi resistant - Prevents the growth of contaminants that can damage the court
Easy to spray - Modified to reduce spray drift for increased control
High pigment concentration - Bright, intense colours with excellent coverage.
Details
Downloads
PRODUCT DESCRIPTION
Sports-Cote Premium is a single pack water based surface coating designed for application to porous macadam tennis courts. Sports-Cote Premium is formulated using advanced polyurethane and acrylic resin technology providing an environmentally safe, durable and aesthetic coating. Sports-Cote Premium meets and exceeds the necessary player/surface interaction characteristics to meet current SAPCA standards.
USES
Sports-Cote Premium is designed as a surface coating for porous macadam tennis courts.
Sports-Cote Premium will define the play area, enhance the appearance of the court and impart durability and slip resistance to comply with SAPCA's Code Of Practice for the Painting of Porous Macadam Tennis and Netball Courts (www.sapca.org.uk).
PACKAGING
20 litre pails.
APPROXIMATE COVERAGE
6-8m² per litre per coat.